Gambaran Tingkat Kecemasan Perawat Covid 19 di IGD Rumah Sakit Mardi Rahayu Kudus Tahun 2021
Overview of the Covid 19 Nurse Anxiety Level in the Emergency Room at Mardi Rahayu Kudus Hospital in 2021
Resmiyati

STIKES CENDEKIA UTAMA KUDUS

Emma Setiyo Wulan
Keywords:
Kata Kunci : Kecemasan, Covid 19, Perawat IGD
Abstract
Anxiety is a worry that is not clearly felt by a person with feelings of uncertainty and helplessness. The cause of anxiety is the environment, emotions, mental and physical health status or the presence of trauma (conflict). Panic and fear are part of the emotional aspect, while the mental or cognitive aspects are the emergence of disturbances in attention, worry, irregularity in thinking, and feeling confused. With the current high incidence of COVID-19, nurses can also feel depressed and experience anxiety. Nurses in the emergency department m who actually come into direct contact with patients when taking an initial history in the triage room with Covid-19 patients will cause anxiety, fear and worry. This study aims to describe the level of anxiety in Covid 19 nurses at the emergency departments at Mardi Rahayu Kudus Hospital. This type of research is descriptive with a cross sectional design. The population of this study were all nurses in the Emergency Departments Mardi Rahayu Hospital. The sampling technique was total sampling and a sample size of 45 respondents. Collecting data with anxiety instrument that is Hamilton Rating Scale for Anxiety (HRSA). Statistical analysis of data with descriptive analysis. The results of this study showed that the Covid 19 nurses in the Emergency Departments experienced moderate anxiety levels as many as 20 respondents (44.4%), mild anxiety as many as 16 respondents (35.6%) and severe anxiety as many as 9 respondents (20.0%) Covid 19 nurses in the Emergency Departments experienced anxiety with various ranges, namely moderate, mild, to severe anxiety.
ABSTRACT
Kecemasan adalah kekhawatiran yang tidak jelas dirasakan oleh seseorang dengan perasaan tidak pasti dan tidak berdaya. Penyebab cemas adalah lingkungan, emosi, status kesehatan jiwa dan fisik ataupun adanya trauma (konflik). Rasa panik dan rasa takut merupakan bagian dari aspek emosional, sedangkan aspek mental atau kognitif yaitu timbulnya gangguan terhadap perhatian, rasa khawatir, ketidakteraturan dalam berpikir, dan merasa bingung. Tingginya kejadian covid saat ini, perawat juga dapat merasa tertekan dan mengalami kecemasan. Perawat di ruang IGD yang sejatinya bersinggungan langsung dengan pasien saaat melakukan anamnesa awal diruang triage dengan pasien Covid 19 akan menyebabkan kecemasan, ketakutan dan kekhawatiran. Penelitian ini bertujuan untuk mengetahui gambaran tingkat kecemasan pada perawat Covid 19 di IGD Sakit Mardi Rahayu Kudus. Jenis penelitian adalah deskriptif dengan desain cross sectional. Populasi penelitian ini adalah semua perawat di IGD Rumah Sakit Mardi Rahayu.Teknik sampling dengan total sampling dan besar sampel sebanyak 45 responden. Pengumpulan data dengan instrument kecemasan yaitu Hamilton Rating Scale for Anxiety (HRSA) Analisa data secara statistik dengan analisis deskriptif. Hasil penelitian ini menunjukkan bahwa perawat Covid 19 di IGD mengalami tingkat kecemasan sedang sebanyak 20 responden ( 44.4%),kecemasan ringan sebanyak 16 responden ( 35.6%) dan kecemasan berat sebanyak 9 responden ( 20.0%) Perawat Covid 19 di IGD mengalami cemas dengan berbagai rentang yaitu sedang, ringan, hingga cemas berat.
Downloads
Download data is not yet available.
References
Cheng, Q., Liang, M., Li, Y., He, L., Guo, J., Fei, D., Zhang, Z. Correspondence Mental health care for medical staff in China during the COVID-19. Lancet, 7, 15–26 (2020). https:// doi.org/10.1016/S2215- 0366(20)30078-X
Diinah, D., & Rahman, S. (2020). Gambaran Tingkat Kecemasan Perawat Saat Pandemi Covid 19 Di Negara Berkembang Dan Negara Maju: a Literatur Review. Dinamika Kesehatan: Jurnal Kebidanan Dan Keperawatan, 11(1), 37-48.
Epidemiology Group of the New Coronavirus Pneumonia Emergency Response Mechanism of the Chinese Center for Disease Control and Prevention.
Epidemiological characteristics of the new coronavirus pneumonia [J / OL]. Chinese Journal of Epidemiology, 2020,41 (2020-02- 17) .http: //rs.yiigle.com/yufabiao/1181998.htm. DOI: 10.3760 / cma.j.issn.0254-6450.2020.02.003; 2020.
Kementrian Kesehatan RI. Pedoman Pencegahan dan Pengendalian Coronavirus Disease (COVID19). Jakarta; 2020.
Li Q. Li, Q. et al. Early transmission dynamics in Wuhan, China, of novel coronavirus–infected pneumonia. N. Engl. J. Med. https://doi.org/10.1056/NEJMoa2001316 (2020). Li, Q. et al. Early transmission dynamics in Wuhan, China, of novel coronavirus–infected pneumonia. N. Engl. J. Med. https://doi.org/10.1056/NEJMoa2001316 (2020).; 2020.
Rosyanti L, Hadi I. Dampak Psikologis dalam Memberikan Perawatan dan Layanan Kesehatan Pasien COVID-19 pada Tenaga Profesional Kesehatan. Health Inf J Penelit. 30 Juni 2020;12(1):107–30.
Zhou, Wang. (2020). The coronairus prevention handbook:101 science-based tips that could save your life. Wuhan University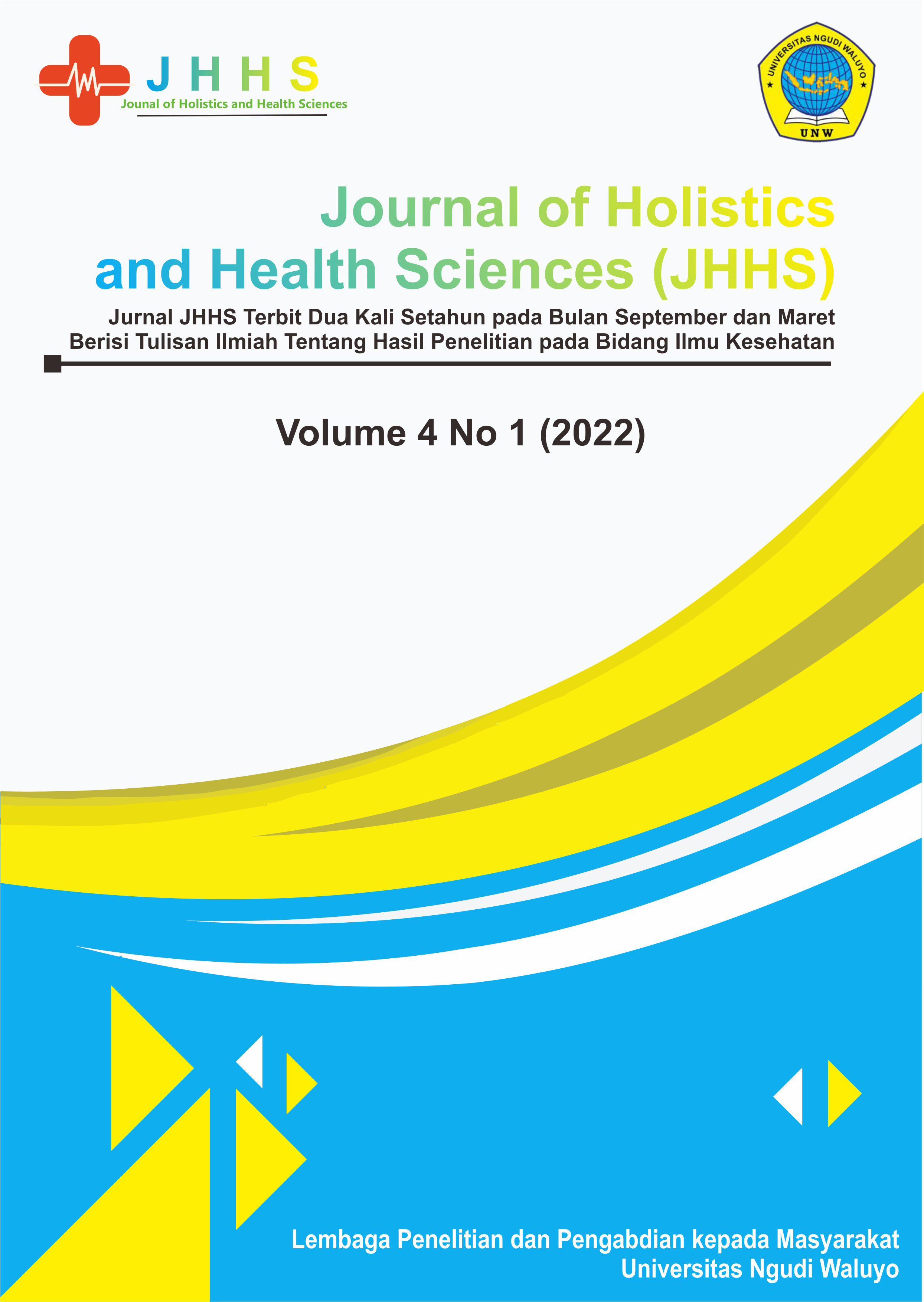 How to Cite
Resmiyati, & Wulan, E. S. (2022). Gambaran Tingkat Kecemasan Perawat Covid 19 di IGD Rumah Sakit Mardi Rahayu Kudus Tahun 2021. Journal of Holistics and Health Sciences (JHHS), 4(1), 110 - 116. https://doi.org/10.35473/jhhs.v4i1.114